Modern information systems serve and connect people with many different interests. We are committed to develop and evaluate technical components for future information infrastructures that for principled reasons resolve potential conflicts, or avoid them altogether.
About
The Security and Privacy Lab has been established with the appointment of professor Rainer Böhme at the University of Innsbruck in March 2015. It currently consists of five researchers who transferred from the University of Münster in Germany. The lab in Innsbruck will grow to a target size of about ten researchers. Our extended group also includes researchers based in Münster and Wiesbaden, Germany.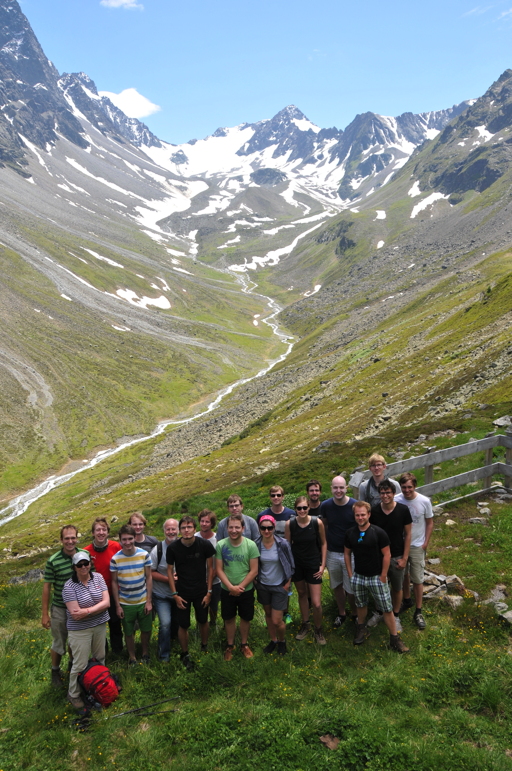 Group picture: first team hike with visitors from Münster (in June 2015)
Research
The lab is known for its interdisciplinary approach to solving exigent problems in information security and privacy, with specific emphasis on:
Digital forensics
Steganography and steganalysis
Economics of information security
Virtual currencies and cryptographic financial instruments
Privacy-enhancing technologies (PET)
Economic and behavioral aspects of information security and privacy
Cybercrime
We regularly collaborate with researchers around the world, most recently with colleagues from University of Trento, TU Delft, University of Twente, University of Oxford, University of Tulsa, Pennsylvania State University, State University of New York at Binghamton, Carnegie Mellon University, Cornell University, Princeton University, University of California at Berkeley, and the Harvard Business School.
Teaching
Students enrolled at Universität Innsbruck please visit our teaching page.
Professional training
We are proud to contribute to the following executive education offers:
For directions please click here.
Acknowledgements
The Security and Privacy Lab, the Department of Computer Science, and Universität Innsbruck gratefully acknowledge a generous grant by Archimedes Privatstiftung, Innsbruck, which funds the endowed professorship. Members of the lab receive additional funding from various organizations listed under projects.